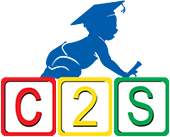 Program Schedules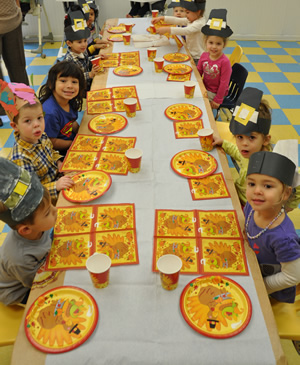 FULL TIME
Enroll your child in a steady curriculum of professional care, education, and fun! Monday-Friday 7am-6pm scheduling still available! Call our office for details.
PART TIME / FLEXIBLE SCHEDULES
Do you need a more flexible schedule? We offer daily and half-day rates. C2Shas the most flexible scheduling options around with drop-in care, afterschool programs, and even Saturday night pajama parties available.
EXTENDED HOURS
Working late or have an evening appointment? No problem. Extended hours areavailable from Monday-Friday until 7:00 pm (cost: $10 per day/ $35 per week). Or catch that early meeting with a 6:45am drop-off time for only $10 extra per day.
DROP-IN PROGRAM (Monday – Friday)
The drop-in schedule is based on space and availability. Advance notice and reservations are required.. Half day and full day rates are priced according to the age group that your child will be attending. A one time registration fee of $50 per child is required from each family and is paid in advance. Although a contract and admission form must be submitted, there is no contract deposit (other than the registration fee) required for drop-in children. There is a 24-hour cancellation policy for drop-ins. Any scheduled and confirmed drop-in that is not cancelled 24 hours in advance will be charged 50% of their fee.
AFTER SCHOOL PROGRAM
For those parents seeking after-school care for children ages 5-12 years, C2S offers a safe, secure and stimulating environment. Activities such as creative art, science and discovery, dramatic play and constructive building are designed to compliment daily school activities and, at the same time, promote further learning and development. Children may also receive assistance with school assignments. Most importantly, the child is given the opportunity to choose from a variety of individual or group activities. If your child's school is closed due to teacher conferences, vacation, or snow days, please contact the front office if you would like to schedule a drop-in day.
SATURDAY NIGHT PAJAMA PARTY
C2S offers babysitting at our facility on Saturday evenings from 6:30-11:00 PM. There are at least two teachers from our school to supervise the children. Any family that is registered at our school is able to use this service. The fee is $45.00 for 1 child, and $10.00 each sibling. You must sign-up in the front office or call in by Friday to make reservations. We are not open on Saturday to take requests, and walk-in's are not permitted. We provide pizza, movies and supervised fun for the children. There is a 24 hour cancellation policy for our babysitting program. Cancellations less than 24 hours in advance will be charged 50% of the babysitting fee.
**Please note: Employees of Crawlers 2 Scholars are not permitted to baby-sit, off premises, for any child that attends our school. We offer Saturday night baby-sitting at our facility to provide care for your child
SUMMER CAMP
The fun never ends at Crawlers 2 Scholars. Our school is open year round, keeping the same hours of operation throughout the summer months. However, our programs take a seasonal twist with activities tailored to the lazy, hazy days of summer. Splash day, field trips and nature discovery and on-site entertainment are all part of our exciting summer program. This program ends the week before Labor Day.
Zach Biehl
Parent
"We researched six different preschools and brought him along as we visited each facility. After extensive deliberation, despite it being more than a 10 minute further commute, we chose Crawlers 2 Scholars and we are very pleased with our choice."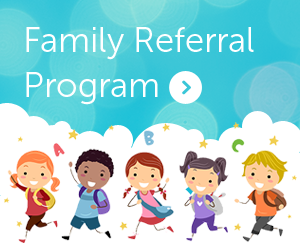 Schedule a tour
Before you make the decision about where you'll send your child for preschool, contact us for a tour.