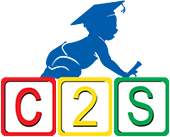 Testimonials
"There is nothing ordinary about this school. The small class sizes allows the teachers to give quality attention to each child. The class structuring is also ideal because the kids are in classes with kids about their exact age. I have seen my child thrive at this school and genuinely be excited about seeing his friends and teachers each day. It makes for a less stressful day at the office for a working mom when you know your child is cared for and loved at his schooll."
- R. Gorfinkel
Our daughter has been a student at Crawlers 2 Scholars since she turned one and has truly flourished under the loving and nurturing care and supervision of her teachers over the past three years. The excellent care our daughter has received has not only allowed her to grow socially, becoming a truly outgoing, vibrant thee-year-old, but also academically. The curriculum is presented to children in an age appropriate fun-loving manner and we believe encapsulates the key criteria needed to prepare our daughter for kindergarten. Beyond her daily lessons, our daughter's day is enhanced by extra-curricular enrichment programs also offered through the school. It is truly a joy seeing how excited our daughter gets about going to school, interacting with her friends and learning new things. It is also a joy to see her smiling face at pick-up time and hear all about her day and the new and exciting things she learned. Our experience at Crawlers 2 Scholars has only been enhanced by the kind and friendly office staff members at the school who are compassionate and understanding in their effort to run a business. We truly consider Crawlers 2 Scholars a home-away-from-home for our daughter.
-Heather & Russell Doucette, Warren.
"We cannot say enough nice things about the teachers and staff. They treated our daughter the same way we would every day. Our goofy little requests were met with open arms and we had to literally remove our daughter at the end of the day since she was having such a good time. I would highly recommend them to anyone looking for day care."
- Stender Family, Gillette.
"Though there are several daycare centers closer to our home and work, we choose to send our son to Crawlers 2 Scholars because of the warm and endearing environment. The entire staff is extremely attentive to our child's needs and focused on his overall development. As we walk down the hall each morning, teachers of various age groups greet him with a wave and a smile. It is comforting to know that while we are at work, our child is enjoying a day full of activities in such a nurturing setting."
-Kerrin & Matt Rosenblatt, New Providence.
When I first walked into Crawlers 2 Scholars, I was immediately impressed by the cleanliness of the facility. I was warmly greeted by the director who made me feel as though we were old friends who had known each other forever. I got to tour the building and see each classroom and teacher. Everyone was friendly and welcoming, and most importantly, the children were excited and happy to be there. As a first time mom I was not thrilled about having to leave my 5 month old with anyone except family, but after seeing him play with Miss Dora and some of the other staff members, I knew he would be well cared for. I am able to go about my day at work with peace of mind knowing that Christian is in good hands. My husband and I toured many other daycares in the area, but none made us feel like family the way Crawlers did. Their flexibility of schedule, affordable rates, and friendly staff are second to none. We look forward to happy years ahead with Crawlers 2 Scholars!
-Tiffany & Don Bennett, Basking Ridge.
"We cannot begin to explain how much we love Crawlers 2 Scholars. The moment I walked in the door I knew this was the place for our son, Michael. It was open, clean and welcoming. The set up of the room was symbolic of what this one room would bring to our son's first formal educational experience. The teachers exemplified the openness that all children need. The children were all happily moving from one activity to another without much ado and with great interest. It was clear to me that this was the place for our son Michael (and us!) It is absolutely the perfect place for children to experience school for the first time! The amazing teachers are so dedicated to providing a nurturing, caring environment that allows children to grow and develop at their own pace, in their own time. A child's first experience with school should be positive, fun, and encourage discovery, and that is exactly what the teachers at Crawlers 2 Scholars provide for their students. And all the while, they are learning so much! They learn how to play and interact with their peers, how to participate in a group setting where everyone is respected and free to share their own thoughts and ideas, and they learn to appreciate the individuality of each member of the group. The themed units that are taught each month give the children the opportunity to learn so much, explore new ideas, and to take their knowledge and use it outside of the classroom. Michael, eagerly tells us what he learned at school with his friends as soon as he arrives home. At the young age of 3 he has a great foundation of social, emotional and academic background that will shape him for his lifetime. Crawlers 2 Scholars truly strives to encourage children to be life-long learners and to love learning! I have no doubt that the programs that C2S provide absolutely prepare students for kindergarten. It takes a special set of talents to work with preschool aged children: enduring patience is an important ingredient in working successfully with preschoolers, as is exuberance, curiosity, empathy and understanding. And to top it all off, the preschooler is all about self. What makes Crawlers 2 Scholars exemplary is the individual attention the staff provides each child. Children who spend time in a setting where adults understand and nurture their development thrive and succeed in kindergarten and beyond. I can think of no better environment than Crawlers 2 Scholars for children to develop and plant the seeds of success for the future. We can't thank you all enough."
-Michele, Christopher & Michael Marafiote, Basking Ridge.
"When our original childcare provider cancelled on us two weeks before I was scheduled to start working again, we called Crawlers 2 Scholars to ask if we could tour at the last minute. The Director welcomed us in and explained the infant program. We felt very reassured after our visit and had our son do a trial the following week. Seven months later and Joseph is thriving at Crawlers 2 Scholars. He literally kicks and babbles with excitement when he greets Miss Dora in the morning. Joseph has learned to sing, clap and walk under the nurturing care of his teachers. Crawlers 2 Scholars' safe, comfortable environment is the perfect setting for a baby to grow and develop. We wholeheartedly recommend it.
–The Della Penna Family, Bernardsville
In January my family moved to the Bernardsville/Basking Ridge area and one of major issues was uprooting our 4 year old son from the only school he had ever known. We researched six different preschools and brought him along as we visited each facility. After extensive deliberation, despite it being more than a 10 minute further commute, we chose Crawlers 2 Scholars and we are very pleased with our choice.
My wife and I both have careers that require travel along with some demanding hours. The flexibility of Crawlers 2 Scholars eases our mind as we plot out our weekly schedule. We are thrilled with his academic growth and he wakes up every morning looking forward to going to school. He has especially enjoyed the extra programs that the school has available at a very affordable cost. From academics to sports to art, these programs are helping us raise a well-balanced child.
The staff at Crawlers 2 Scholars has met our lofty expectations. They reinforce our base human values on a daily basis. My wife and I want to raise our children to enjoy them as adults. To us that requires them to become thoughtful, caring, intelligent and fun loving people. Thank you Crawlers to Scholars for helping us get off to a great start in raising such a son.
Sincerely,
- Zach Biehl
"One thing I would say, it is the best school. From the first time I saw it I knew it was the only one for my boy, he is now 2 years old, and the progress he made there after 4 month was enormous. Just go there your child will be happy."
- Neli Cohen
All 3 of our children currently attend Crawlers 2 Scholars and we couldn't be more pleased! My husband and I had tried having a nanny for our children and decided that we really wanted them to have more social interaction and structured activities throughout the day. Each of our children receives a ton of personal attention, and they are encouraged to interact and play with other children in a safe, CLEAN, and fun environment. My oldest daughter has thrived in her classroom. It amazes me how intelligent she has become and how much she enjoys going to "school" each day. We wake her up each morning and the first thing she asks is for her teachers. Her art projects literally cover our refrigerator! My other children entered C2S in the infant room and just love their caregivers. I appreciate that C2S respects my wishes for how my child is to be raised and does not veer from that without asking me for my permission. My husband and I make all of our own food for our children and we appreciate that if they are given anything other than that food we are asked first. Additionally, the fact that they take the time to fill out a daily "report card" on each of our children really makes us feel like we were involved in their day. Lastly, life can be a little bit crazy trying to get 3 small children in and out of school in the morning. The owner of C2S helps me to get my kids to and from the car each morning so that I can focus on keeping them safe. I don't think she'll ever know how much I appreciate that. Crawlers 2 Scholars is my children's "Home away from home" and we simply could not imagine a better childhood for them. I would recommend them to anyone!
-Sarah S - Berkeley Heights
Bennett
Parent
"My husband and I toured many other daycares in the area, but none made us feel like family the way Crawlers did."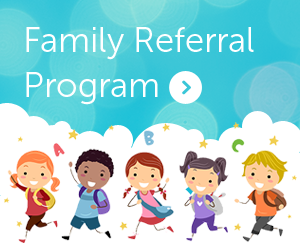 Schedule a tour
Before you make the decision about where you'll send your child for preschool, contact us for a tour.